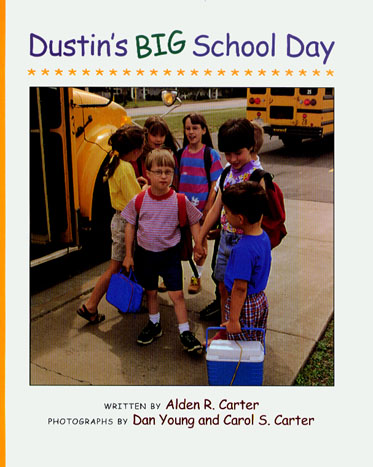 Can you guess who's coming?
Today is the day Dave and Skippy are coming to Dustin's school--and that makes it the the biggest day ever! Join Dustin and his friends in Grant School's regular and special-education classes as they get ready to welcome their unusual guests.

Recommended in Parenting Magazine
Recommended in L.A. Parent Magazine
Recommended by
the National Association for Down Syndrome
Recommended by
The Journal of Bibliotherapy and Reading
Recommended by the Southwest Wisconsin Library System Special Needs Department

Recommended by Kennedy Krieger Institute, Baltimore
"In Dustin we found what is best in all of us: kindness, generosity, gentleness, humor, enthusiasm, and joy. For us, he is proof that including 'special' children in the regular classroom benefits the education of all children."--Alden R. Carter
"Second-grader Dustin is anticipating an exciting day at school because eagerly awaited guests are coming at two o'clock. But until their arrival, Dustin must get through most of the school day, which in his case, because of his specific learning needs, means not only music, language arts, recess, lunch, library time, and science but also speech and occupational therapies and special reading and math classes.
"Vibrant full-color photos follow Dustin through his day, showing the activities, the interactions with friends, and the learning experiences enjoyed by this active child. Finally, two o'clock arrives, along with Dave, the ventriloquist, and his wooden pal, Skippy, who delight their school audience.
"Using the entertainer's visit as the excuse to tag along with Dustin, the photographers energetically document the school day that is a vital aspect of the youngster's life. The photos, together with the well-written text, reveal the inviting environment integrated schools can offer special needs students." --Booklist
"...valuable for its depiction of a great kid who has special needs but is integrated completely into the life of his school." --School Library Journal
"...bright and cheerful...fun and informative... For children in a wide age range... with special needs or children without. Could be used in home, class, or most settings.
--Marshall Memorial Library, Deming, New Mexico
"This is a concept book that depicts a day in the life of a Down syndrome child.... This is an excellent book for classrooms who have these children in their school. The special education teachers gave this a high rating."
--Lower Columbia Media Association
"A very nice approach to illustrating how very normal, in most ways, a child with Down syndrome is. The color photographs are excellent." --Burleson Independent School District, Fort Worth, Texas.
"The story shows how a special student spends a typical day at school. His special teachers are depicted as they guide Dustin through his classes. The plot presents a lot of factual information about special-needs students but also makes the characters caring and supportive."
--Heart of Texas Literature Center

"The candid photographs and the clear, simple text work very well together [to] portray a young boy's active day at school, with a positive approach to integrating children with special needs."
--Highlands Regional Library Cooperative
"A wonderful story on two levels, because it is a school story, which is in high demand, and [because] it also shows a disabled child in school." --Whitehall Public Library, Pittsburgh, Pennsylvania
"Great photos show Dustin, a boy with Down syndrome, on [a special] day of second grade.... All aspects of school are shown: lunch, recess, occupational therapy, library, special reading and math, music and speech therapy. Dustin is easily accepted and likable... A well-written glimpse [into a] day in the life of Dustin." --Essex County EMA Book Examination, New Jersey
"This book held special appeal to the Down syndrome classroom at Agnes Stewart Middle School as it is the first book they found themselves in.... Recommend it for any K-5 to learn about these students and any school with such students enrolled." --Lane Education Service District, Eugene, Oregon
"The story... portrays a successful integration of a child with special needs into the public school system." --Madison Metro School District, Madison, Wisconsin
"The book illustrates that although Dustin has special needs, his day is a productive one and filled with excitement and suspense. Can be used in addressing mainstreaming issues, and shared with all kinds of students and teachers." --Garland Independent School District, Garland, Texas
"Beautiful, well written-- a very good book to teach children about our differences." --Norfolk, Virginia, Public Schools
"The reader easily can identify with Dustin's excitement and difficulty in concentrating on such a special day. Underlying this is the implication that, while he is somewhat different from other children, he is very much accepted in the family and at school."--BayViews, Northern California Association of Children's Librarians
"The pictures are photographs of real people in real situations. Very believable. Good book for teaching about special needs and understanding others."
--Sanger, California, Unified School District
" I would highly recommend this book to all teachers as part of a basic teaching library of materials about 'special needs' children. A great book which talks about differences among children." --Tim Sprinkle for Provident Bookstores
"Readers will enjoy seeing Dustin's day at school and anxiously await the special visitor that is on everyone's mind." --Mid-Del Schools Book Review Program, Midwest City, Oklahoma
"A thoroughly heartwarming story depicting a special child as just being 'one of the gang.'" --Library Talk
"Especially recommended because the relationship between Dustin and the others in the book is so casual."
--South Jersey Regional Library Cooperative
"The photos, together with the well-written text, reveal the inviting environment integrated schools can offer special needs students." --Kansas State Reading Circle

Albert Whitman & Co.

Not currently available. Watch this space for an upcoming paperback reprint.