Books by
Alden Carter



Programs and Workshops




Credit List/
Biographical information


The Store
--------

Amazon isn't the
only way! Support
your independent bookseller at
booksense.com
Alden Carter's

13 novels, 25 nonfiction titles, and 7 picture books have won numerous honors.

His fiction is praised for its realistic depiction of young adult life. His novels

Sheila's Dying, Growing Season, Up Country

,

Between a Rock and a Hard Place,

Bull Catcher,

and

Wart, Son of Toad

were named American Library Association Best Books for Young Adults. In 1994, the Young Adult Library Services Division of the ALA selected

Up Country

to its list "The Best of the Best: the 100 Best Young Adult Books of the Last 25 Years."

Mr. Carter's latest book for young adults is his novel Walkaway, published by Holiday House.

Besides his work for young people, Mr. Carter also writes adult fiction and nonfiction.

His

Bright Starry Banner: A Novel of the Civil War

was released by Soho Press in March 2004 and won the prestigious John Esten Cooke Fiction Award from the Military Order of the Stars & Bars.

With co-author Dr. David Wen Wei Chang, he wrote

The Scholar and the Tiger: A Memoir of Famine and War in Revolutionary China

,

published by Rowan & Littlefield in Feb. 2009. Dr. Chang died in Oct. 2010.

Mr. Carter's most recent nonfiction book for adults is

The Sea Eagle: The Civil War Memoir of Lt. Cdr. William B. Cushing, U.S.N.


New Fiction for young adults
from Holiday House


Walkaway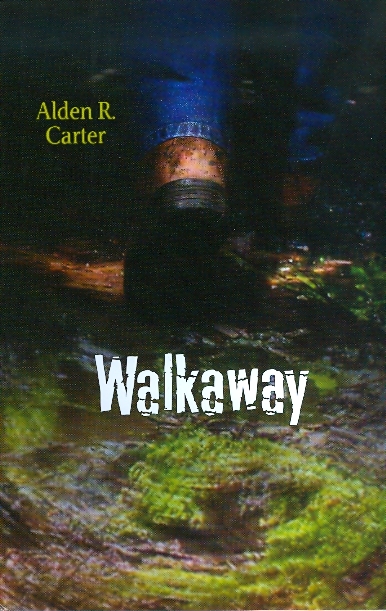 Home is hell, the woods inviting. Can Andy simply walk away from his problems? Or is he loaded down with more than anyone can carry?

"Critically acclaimed author Alden R. Carter's deeply affecting portrait of a troubled young man's desperate attempt to escape from his problems is a gripping adventure filled with drama and emotion that will have even the most reluctant reader tearing through the pages." --Barnes and Noble

"Once again, Carter has created an impelling and believable central character struggling to deal with unfavorable circumstances. Facing not simply an alcoholic father but also his own chemical imbalance that makes him anxious and prone to delusion, 15-year-old Andy finally decides that the only solution for him is to leave it all behind--to leave his family and his own troubled past and make his way into the vast wooded spaces of Canada to live alone." --Amazon.com

"Once Andy walks away, the book becomes riveting: Andy faces a truly untenable situation, tormented both by his hideous family situation and his own unraveling sanity, and pursued relentlessly by the long arm of the unsympathetic law. Carter is unsparing in presenting Andy with no viable solution whatsoever to his unbearable predicament—and yet managing to close the novel with some believable, if meager, measure of hope." --Children's Literature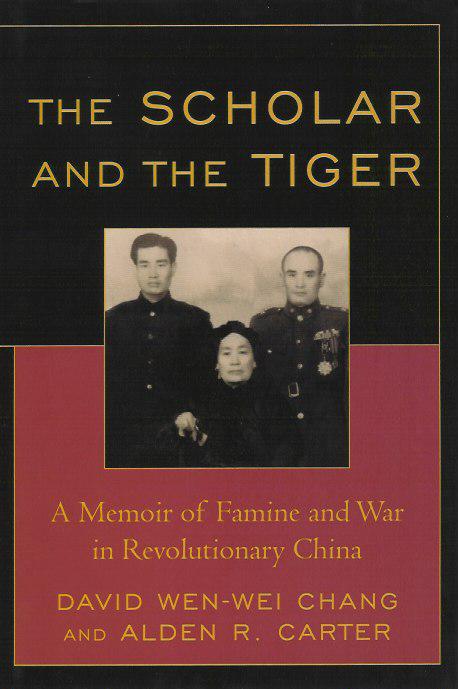 The Scholar and the Tiger
is at once a compelling family saga, thriller, social history, and spiritual journey. Written by a leading China scholar in partnership with a noted author, the story brings to life some of the darkest pages in twentieth century history while providing surprising insights into the China of today.
The Memoir of a Forgotten Hero
The Sea Eagle: The Civil War Memoir of
Lt Cdr. William B. Cushing, U.S.N.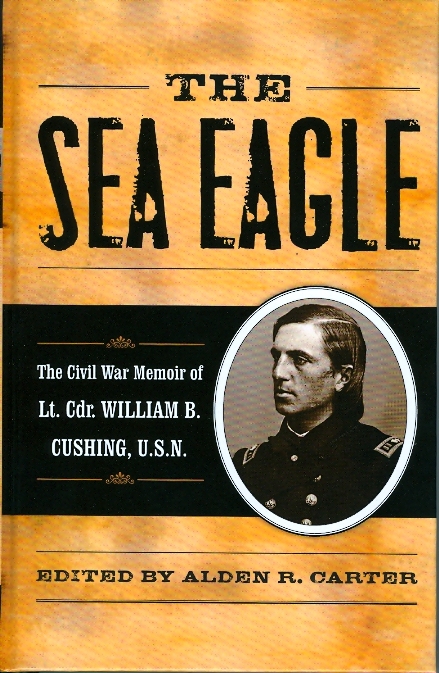 Edited by Alden R. Carter

The memoir of the young Civil War naval officer who terrorized the North Carolina coast and brought off one of the naval coups of the war when he steamed up the Roanoke River to sink the fearsome Confederate ironclad
Albemarle.
A New Addition
to Marshall Cavendish Classics
Wart, Son of Toad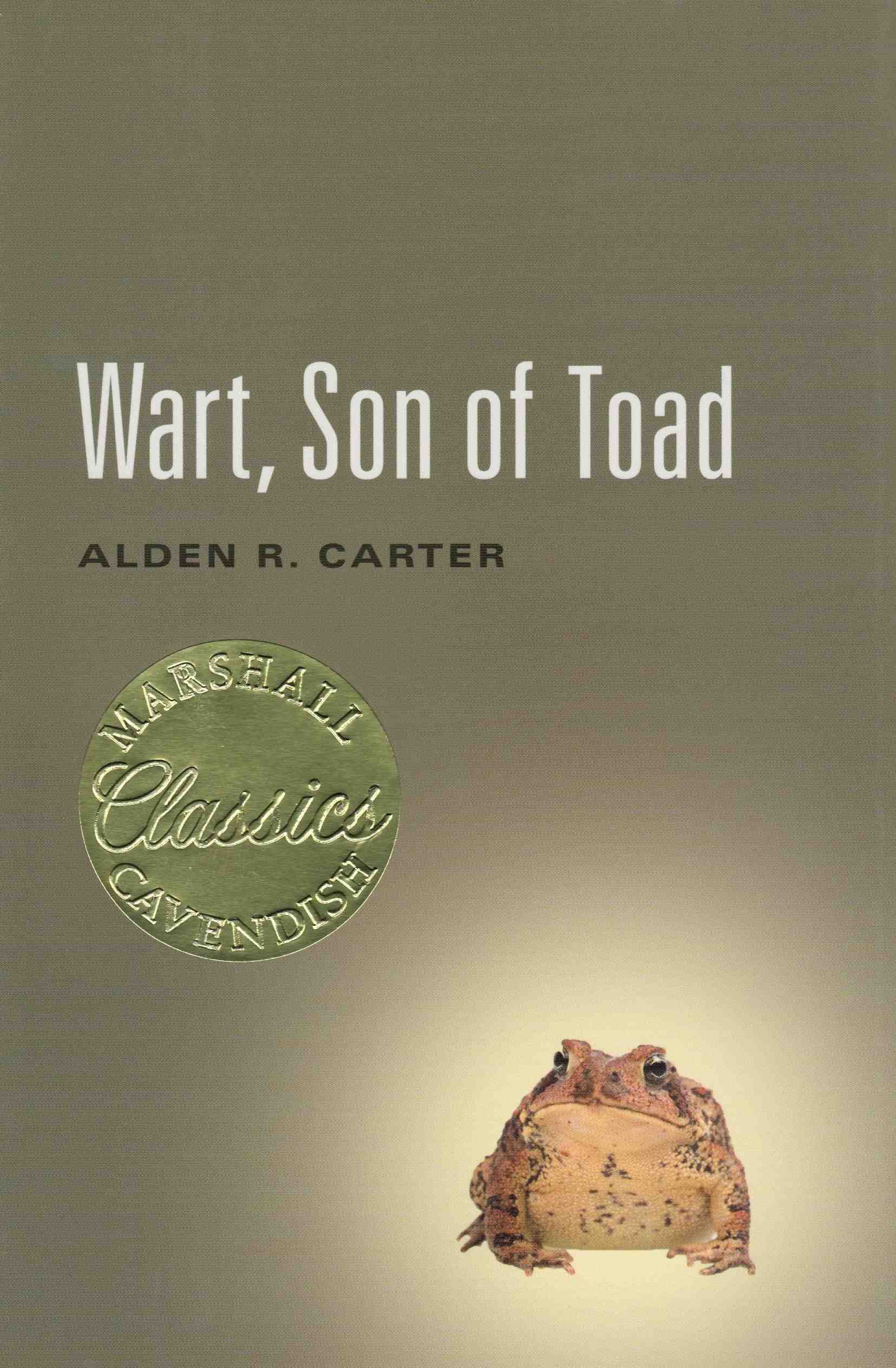 Long out of print, Alden Carter's
Wart, Son of Toad
becomes available to a new generation of young adult readers in both hardcover and ebook.


More recent fiction for young adults
Love, Football, and Other Contact Sports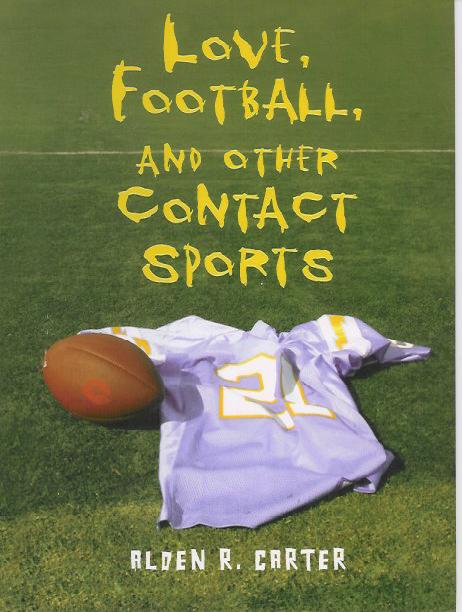 Wisconsin Library Association
Outstanding Achievement Award
A
Booklist
Top 10 Sports Books
for Youth Selection
A Bank Street College Best Children's Book of the Year
"[A] dynamic collection of [interconnected] short stories…. Readers can leave their stereotypes at the door."—Booklist starred review.

"For reluctant readers or advanced, funny, heartwarming, lovely stuff."—Kirkus Reviews

"A delightful, often hilarious, fast-paced read that offers truisms for life." —School Library Journal

"Jock to loner, academic snob to outcast, Carter explores and shatters the stereotypes behind the relationships, friendships, rumors, peer pressure, sports, bullies, and other assorted forms of mental anguish that come with high school." —Amazon.com

****

Adult Fiction

NAMED BEST CIVIL WAR NOVEL OF THE YEAR
BY THE MILITARY ORDER OF THE STARS & BARS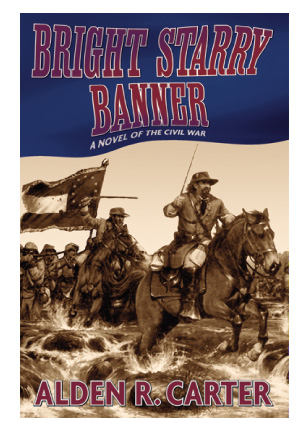 Mr. Carter's novel for adults brings to life all the horror and glory of the Battle of Stones River. Set in Murfreesboro, Tennessee, at the turn of 1862-1863,
Bright Starry Banner
is Civil War fiction like you've never experienced it before. The kaleidoscopic narrative follows generals and privates, amateur soldiers and weathered professionals through one of the bloodiest battles of the Civil War. Visit the
Bright Starry Banner
page to learn more. Peter Cozzens says:
"Carter brings... Civil War conflict to life in a manner that no novelist since Joseph Pennell [a century ago] has done."--Peter Cozzens, author of

No Better Place to Die: The Battle of Stones River
"Crackles with action, suspense, and drama."
--Booklist

"Rendered with the creative force that amounts to a sense of mission."
--Kirkus Reviews (starred)
"This monumentally ambitious novel covers in exquisite and graphic detail one of the bloodiest engagements of the Civil War....For a depiction of war this is as good as it gets." --Publisher's Weekly (starred review)

****
China: From the First Chinese to the Olympics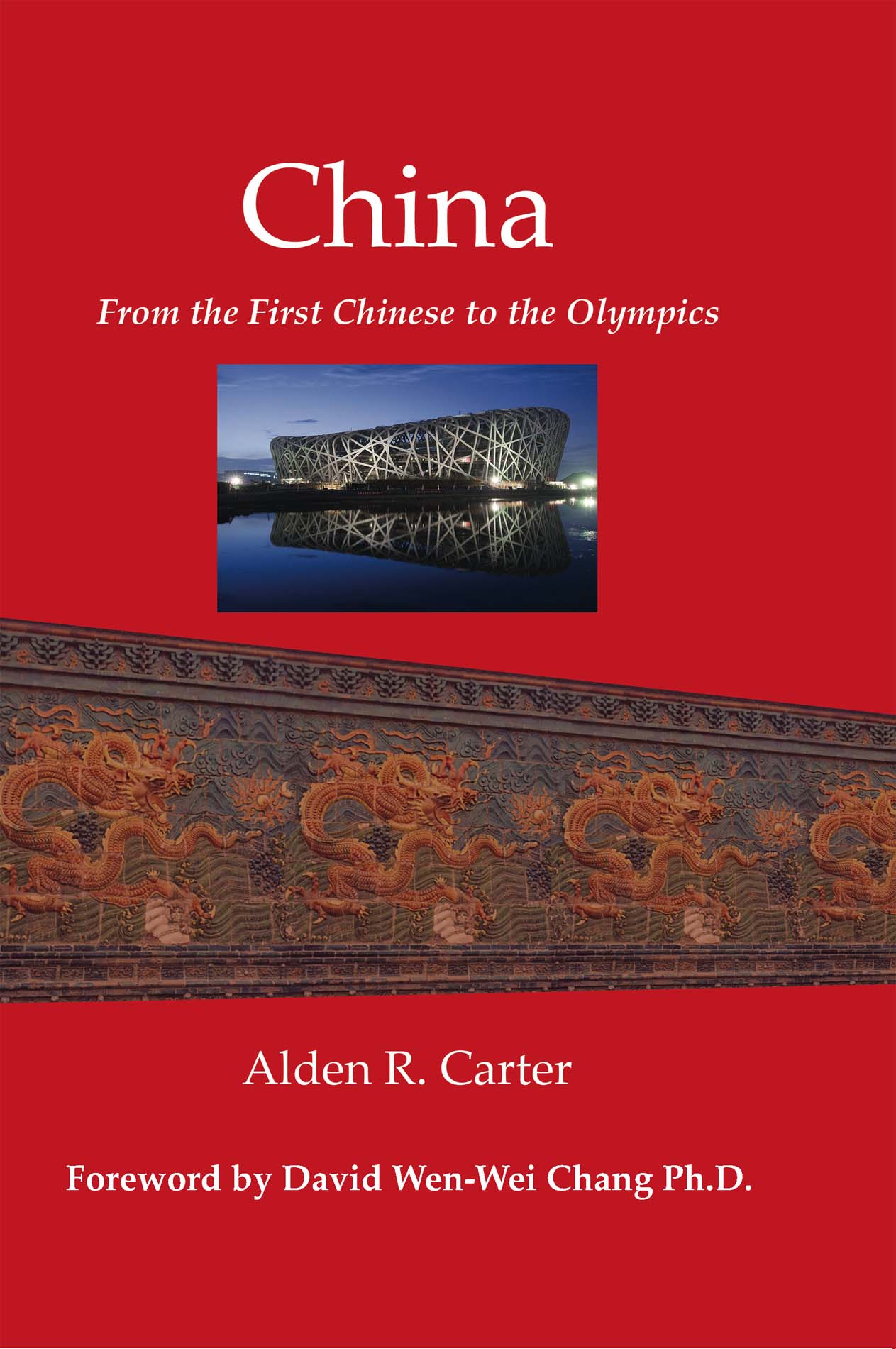 "From the air, Beijing's Olympic stadium seems to float on the land,
an immense bird's nest of intertwining buttresses and girders that seems
made as much of wind and sunlight as concrete and steel. Unlike the
glowering barrier of the Great Wall, a few dozen miles to the north, this
structure welcomes the visitor to China. Here, the stadium seems to
announce, is a changed China, a China fully involved with the
community of nations as partner, competitor, and powerful voice in the
making of the 21st century."

--from the introduction to
China: From the First Chinese to the Olympics
Alden Carter's concise history traces the development of China from its ancient roots to the present with a special emphasis on the era of reform since the death of Mao Zedong in 1976. Looking into China's challenging future, he considers both the immense obstacles facing China and the possible outcomes of social change and global competition on an ancient civilization that only truly joined the modern world with the 2008 Olympic Games.

Mr. Carter is honored that the international scholar Dr. David Wen-Wei Chang has contributed a thoughtful and moving forward to China: From the First Chinese to the Olympics.


Brother to the Eagle:
The Civil War Journal of
Sgt. Ambrose Armitage, 8th Wisconsin Infantry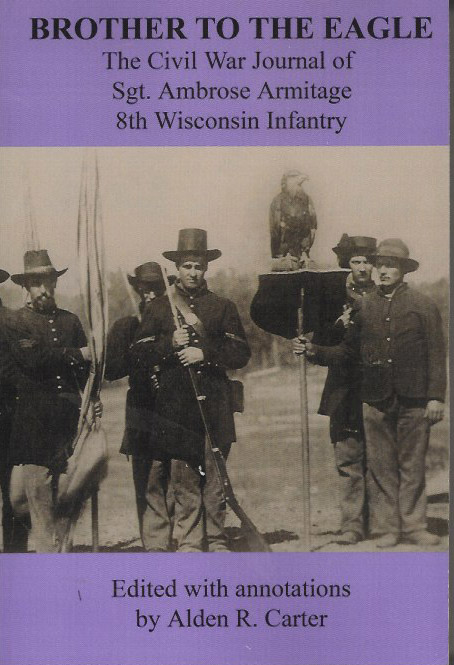 Edited with annotations by Alden R. Carter
"Fascinating…comprehensive [and] superbly edited,

Brother to the Eagle

will be welcomed both by researchers and the reading public."
--Steven E. Woodworth, author of

Nothing but Victory: The Army of the Tennessee
Recruited from farms and country villages, the 8th Wisconsin Infantry became one of the hardest marching and fighting units of the Civil War. At its head, between the regimental colors and the national flag, rode the eagle Old Abe, his defiant scream announcing the presence of the famed 8th Wisconsin on battlefields across the South.
****
YOUNG ADULT NONFICTION
Mr. Carter's many and varied nonfiction books have won numerous honors. His respected books on military and political history include
The War of 1812: Second Fight for Independence,
winner of an Outstanding Achievement in Children's Literature Award from the Wisconsin Library Association, and
The Spanish-American War: Imperial Ambitions,
named Best Juvenile Nonfiction Book of the Year by the Council for Wisconsin Writers.
The Civil War: American Tragedy
has become a standard introduction to the war for grade-school children. Please see
Books of Alden Carter
.
****
PICTURE BOOKS


Mr. Carter's picture books for and about children facing special medical challenges have won wide recognition.
He is co-author with his daughter, Siri, of
I'm Tougher Than Asthma,
an
American Bookseller
Pick of the Lists, an Orbis Pictus Award nominee from the National Council of Teachers of English, a Cooperative Children's Book Center Choice, and an Outstanding Achievement in Children's Literature from the Wisconsin Library Association.
Many of the same awards were given to his picture books about Down syndrome,
Big Brother
Dustin
and
Dustin
's Big School Day.
Mr. Carter frequently collaborates with his wife, the photographer Carol Shadis Carter. Their book on vision impairment, Seeing Things My Way, was named an Outstanding Book for Young People with Disabilities by the International Board on Books for Young People (IBBY).
DRAMA
Mr. Carter's play
Driver's Test: a comedy in one act
has been performed widely in the United States as well as in Canada, Puerto Rico, the Czech Republic, New Zealand, and Australia. Send a large self-addressed envelope to Alden R. Carter, 512 N. Schmidt Ave., Marshfield, WI 54449-1732 for a sample copy of the performance script and performance agreement. [Approximate weight of the package is 5 oz. (140 g). Please include appropriate postage.]
****

SPEAKING
Mr. Carter has made over 600 presentations in schools and at conferences nationwide, including the National Council of Teachers of English, the International Reading Association, the American Library Association, and the Civil War Preservation Trust. He particularly enjoys speaking to young people. One language arts teacher described a presentation: "With humor and a knack for communicating with young people, Al Carter combines advice on writing with sound lessons for growing up."
"I write for young people because I'm always astonished at their courage," Mr. Carter explains. "They deserve good stories, and when they want to talk in my imagination or in person, I listen."
[Unfortunately, Mr. Carter's health and mobility have declined in recent years, forcing him to reduce his speaking schedule. However, all inquires are welcome. While he is often unable to travel, he is always happy to make arrangements to speak to classes of young people by conference call.]
Contact Alden Carter by phone at 715-387-6559, email acarterwriter@tznet.com, or letter at 512 N. Schmidt Ave., Marshfield, WI 54449. (Student letters should include SASE.)
Mr. Carter established Brush Wolf Press to publish
Auschwitz Veterinarian
by Dr. Tadeuz Kowalczyk, D.V.M., an account of his five terrible years in the Nazi death camps,
Auschwitz Veterinarian
is available from the press at a nominal fee or may be downloaded free at: http://www.aldencarter.com/brushwolfpress.html.
Brush Wolf Press is interested in seeing war diaries, letters, journals, and remembrances for possible publication. Authors and custodians of documents are cautioned that submission to the press should be in the interests of preserving history, not in anticipation of large profits.
****
FAMILY MATTERS
Alden and Carol Carter live in Marshfield, Wisconsin. Carol is a photographer and a noted fabric artist. They have two adult children, Brian, an architect, and Siri, a student and horse trainer. The Carters enjoy books, baseball, the outdoors, their energetic toy poodle, Louie, and the birds, squirrels, rabbits, possums, deer, and raccoons that visit their outdoor feeders.

For more biographical information on Mr. Carter and his family, go to resumé.